Laminate Flooring in Chicago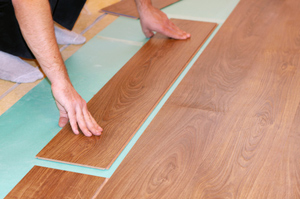 Laminate flooring has only been around for about 20 years but is becoming one of the fastest growing flooring options of the flooring industry. This type of flooring is extremely durable, low-maintenance and attractive. Another benefit of laminate flooring is that it can be purchased at a cheaper price than real wood flooring.
Laminate flooring in Chicago is generally much more resistant to water, stains and scratches when compared to hardwood floors. Hardwood flooring requires a little more maintenance since it is porous and can be subject to stains, water absorption and dents. You will find that many laminate floors have water resistant cores and waxed edges which means that they are great for use in kitchens, bathrooms or other rooms that have the occasional water spill.
It is hard to compete with the natural beauty, elegance and warmth that hardwood floors bring to a home. Many homeowners are not comfortable with simulations or artificial flooring and will only settle for the real thing. However, if the price of hardwood flooring is out of your budget, consider laminate floors which come with an affordable price and with better durability and lower maintenance.
Our Chicago Laminate Flooring Services
Laminate Flooring
Laminate Flooring Installation
Laminate Floor Replacement
Laminate Floor Repair

Laminate Floor Design
Custom Laminate Flooring
Floor Laminate
Laminated Floor

Flooring Installs
Laminate Wood Floors
Floor Installation
Laminate
Why Chicago Should Hire Us For Laminate Flooring
Laminate flooring in Chicago has become very popular over the years.  It is used in both residential and commercial building since it is durable and is easy to clean.  It's a great option for families with children or pets and can provide either a formal or casual look. Our Chicago flooring company can discuss the various styles and choices of laminate flooring to help you select one that is suitable for your flooring needs. 
Recent Articles About Laminate Flooring
If you are looking for laminate flooring in Chicago, then please call (773) 245-3334 or complete our online request form.