Professional CHicago Hardwood Floor Refinishing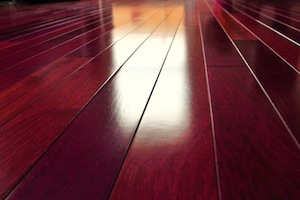 Your hardwood flooring provides warmth and beauty to your Chicago home; therefore, you should always keep it looking at its best. Wood flooring has become the most popular choice among homeowners but it still requires some maintenance in order to keep it looking polished. Over the years, the polish can wear off, usually in high traffic areas. Once this happens, your hardwood flooring may begin looking dull.
Chicago hardwood refinishing is a great option to restore your floors natural beauty which may become hidden beneath dirt or covered with a carpet for years. A proper hardwood floor refinish can be a daunting job and could take several hours up to days to finish.
Hardwood refinishing jobs can vary upon the extent of damage suffered by the flooring. A slightly damaged wood floor can be refinished with just screening and coating; however, refinishing a badly damaged floor can be more complex. We can even provide customized refinishing with the use of certain chemicals, stains etc, in order to create the unique look.
In order to make sure your Chicago hardwood floor refinishing project is done correctly, you should hire a professional company which specializes in hardwood floor refinishing such as Chicago Hardwood Floors, Inc. We are a professional flooring contractor who has years of experience in restoring hardwood flooring. We take care of all the supplies and use dust extracting equipment which will take care of the dust during the refinishing process. Our flooring contractors provide professional floor refinishing that will last for many years.
Our Chicago Hardwood Floor Refinishing Services
Hardwood Refinishing
Hardwood Flooring
Hardwood Floors
Hardwood Floor Refinishing

Hardwood Floor
Wood Floor Refinishing
Refinish Wood Floors
Wood Flooring

Refinishing Hardwood Flooring
Hardwood Flooring Installation
Floor Refinishing
Floor Installation
Why Chicago Should Hire Us For Hardwood Floor Refinishing
Our Chicago hardwood floors can transform your home and raise the value of your Illinois home. We employ experts who are here to inform you on all the various flooring styles and options in order to help you select the best products for your wood flooring needs. We offer our clients free consultation, free estimates and quality flooring products at the most reasonable prices. Your satisfaction is 100% guaranteed on all of our flooring and refinishing services.
Recent Articles About Hardwood Floor Refinishing
If you are looking for hardwood floor refinishing in Chicago, then please call (773) 245-3334 or complete our online request form.